- 5 trillion won in sales by 2030, 50% of the overseas market, leap to the top 5 in the global market… 'Triple 5' Goal
- The smart campus era begins with the first head office and factory relocation since its inception... Annual production capacity of 25,000 units,
The automation rate is expected to increase by 78% and productivity per person by 38%.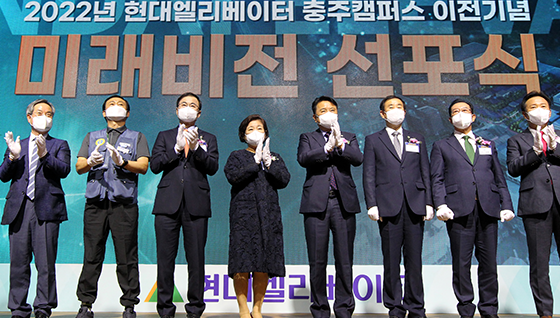 Hyundai Elevator announced the 2030 future vision in line with the opening of the new Chungju era.
On the 13th, Hyundai Elevator held a 'future vision declaration ceremony to commemorate the relocation of Hyundai Elevator Chungju Campus in 2022'. The proclamation ceremony was held at the newly relocated Chungju Smart Campus Auditorium, at the proclamation ceremony held on this day, with Hyundai Group Chairman Hyun Jeong-eun, Chungcheongbuk-do Governor Kim Young-hwan, National Assemblyman Lee Jong-bae, Chungju Mayor Cho Gil-hyeong, HDC Group Chairman Chung Mong-gyu, Korea Elevator Safety Corporation Chairman Lee Yong-pyo, Korea Elevator Association President Ryu Hee-in and Chungbuk-Chungju About 300 distinguished guests from inside and outside the company, including heads of institutions and officials, presidents and executives of Hyundai Group affiliates, attended.
On this day, Hyundai Elevator CEO Jae-Chun Cho announced the company's future vision for 2030 called 'Mobility To Possibility'. This reflects the will to find 'new possibilities' by applying the 4th industrial revolution technologies such as artificial intelligence (AI), open API, and Internet of Things (IoT) to the elevator, which was considered a simple means of transportation.
As five strategic tasks for this purpose, △Increase customer value through digital transformation △Market leadership through innovative products △Aggressive expansion of overseas business △Expansion of service business portfolio △Advancement into new indoor mobility business. Based on this strategy, Hyundai Elevator has set the goal of 'Triple 5' by 2030: △ '5 trillion won in sales' △ '50% of overseas business share' △ 'Global Top 5'.
The relocation of Hyundai Elevator's headquarters and factories is the first since its establishment in 1984. The Chungju Smart Campus, which will become a stepping stone for a new leap forward, is a complex space equipped with a headquarters, a smart factory equipped with a production, packaging, and shipping unification system on a site of 172,759 square meters, and various welfare facilities and dormitories for employees. In particular, the 4th industrial revolution technology such as Industrial Internet of Things (IIoT), big data, and AI was introduced to smart factories, R&D centers and logistics centers, raising the automation rate to 78%. In addition, it is expected to increase cost competitiveness through the effect of improving annual production capacity by 25% (25,000 units) and per capita productivity by 38% (4.8 units → 6.6 units) compared to the existing plant. Hyundai Elevator plans to further expand its production capacity to 35,000 units per year by 2028.
In addition, Hyundai Elevator's smart campus was the first in Korea to apply a third-party PPA method to build an eco-friendly solar power generation facility with an annual capacity of 6 MW (megawatt). Converted to a four-person household, this is equivalent to one year of use for 2,062 households, and has the effect of planting 680,000 pine trees that are 30 years old. Thanks to this, we are one step closer to achieving the RE-100 in which global companies are participating.
Meanwhile, Hyundai Group Chairman Hyun Jeong-eun mentioned 'Haneuljae' of Woraksan Mountain in Chungju in his commemorative speech and said, "As Haneuljae is a geographical key linking Mungyeong and Chungju, it also has the meaning of linking the present and the future as one, so Hyundai Elevator resembles 'Haneuljae' and makes a simple movement. I hope that it will become a channel that goes beyond means to make future dreams a reality." In addition, referring to the words of the late Hyundai Group Chairman Chung Mong-heon, "Only continuous innovation will prevent corporate regression," he emphasized that "innovation is the only way for us to live."
In a congratulatory speech, Kim Young-hwan, Governor of Chungcheongbuk-do, said, "With the opening of Hyundai Elevator's Chungju era, the entire Hyundai Group will take a step forward."
The event started with a pre-performance of fusion traditional music in Chungju, followed by an AI announcer's progress report, a future vision declaration ceremony, and a commemorative planting. All events were broadcast live through the online virtual world Metaverse.
On that day, Chungbuk Province Governor Kim presented the current president with a plaque of appointment as an honorary governor, and the current president and CEO Cho presented a plaque of appreciation to relevant public officials in Chungju and officials of construction, supervision, and design companies.